Leslie was a pleasure to work with. She was knowledgeable, flexible, and made sure that I was aware of everything necessary for the purchase of my first home.
I would recommend her to anyone who requires a realtor! Susanne May 30, 2021
Good customer service might be hard to find but Leslie went above and beyond for my family! in a volatile market, stress was high but Leslie made us feel at ease, was professional and was always focused on our needs. Thank you, Leslie! Bill and Jen May 19, 2021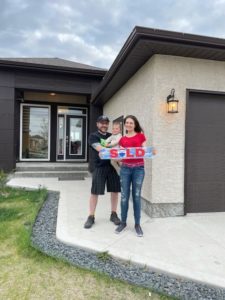 Leslie continues to provide exceptional real estate services from her commitment to be available as needed and respond promptly; her insight into advising on effective marketing approaches to either make the sale or gain the purchase; and her willingness to go above and beyond, pitching in with bringing staging items and cleaning supplies, even lending a hand to help clean! She was willing to stretch her skills to help us with some commercial revenue property purchases, calling on her colleague as needed to ensure we were getting the correct information whenever she wasn't sure, a true sign of an effective professional. – Anne and Fereidon Mahdi
Rating submitted
April 30, 2021
We reached out to Leslie at the beginning of March having worked with her back in 2013. She was so quick to respond, meet, set us up on MLS and begin the process of selling our current home and buying our future home. She gave us good advice when we had questions regarding the preparation of our home and was quick to respond to our needs for our next home. This housing market is so competitive when purchasing and we lucked out with our new home purchase. A lot of it has to do with the speed of the transaction that Leslie was able to coordinate and because of that we were able to meet all conditions within two weeks of starting the process. We are very grateful for all of the work she did with our transactions, We highly recommend her! – Brigitte Dupuis-Unrau
Rating submitted
April 15, 2021
We had a fantastic experience working with Leslie. She was quick to answer our questions, very knowledgeable about the local market and walked us through each step of the process to buy a new home and to sell our home. If we are in the market for a new home again, we will definitely be contacting her! We highly recommend her when you are looking to buy or sell a home. – Deanna
Rating submitted
March 27, 2021
Professional, knowledgeable and patient. Was able to guide us through an estate sale with patience and support. We would definitely recommend her to our friends and acquaintances. In fact we have already suggested her name to a friend. – Robert Heisinger
Rating submitted
March 01, 2021
Leslie helped me move out of my apartment into my first house. She was extremely knowledgeable, honest, and personable. I would recommend her to anyone, and will contact her next time I move. – Cory
Rating submitted
June 08, 2020
This was our first house in Canada. Leslie was introduced by a friend that bought a house with her help. We had no clue about the process of buying a house here, what is important, what should we look at, etc. She was very approachable and took the time to answer all our questions and made us feel very comfortable and secure about the process. My wife and I highly recommend her services! You wont regret!!!                                – Jamerson Voltolini       April 19, 2020
Leslie is very helpful and professional. The pictures she took of our house turned out well because it was purchased by the first person who saw it. I would use Leslie again to sell a house.                                                                                                                                                                          – Heather Laurie               March 20, 2020
We couldn't be more pleased with Leslie's professionalism, expertise and suggestions. The result? We sold our home in only 10 days! Thank you Leslie.                                                      – Wayne and Nancy Drozdowski                March 20, 2020
Leslie was recommended to me and I am so glad I chose to use her as my realtor. She was very knowledgeable and provided a critical/objective review of every property. She responded to every text and call quickly, she accommodated my schedule. I never felt pressured or rushed to purchase a house. She knew the neighborhoods, I could count on her for comparables. She had a sense of humor which always helps me. She did not suggest houses above my price range and was very open to houses I wanted to see. Thank you, Leslie, we found my home!!!!  – Gwen Kydd              March 07, 2020
Leslie was very easy to work with and gave great advice on how to make the property look great for viewing which helped get multiple offers and a very quick sale.                           – Denis                        Jan 11, 2020
leslie is absolutely wonderful to work with, she is very knowledgeable and made a stressful situation easy – she really cares about her clients and you can see this in everything she does. I highly recommend her to anyone selling their house, especially if you want it done right. – chenoa deegan          December 10, 2019
Leslie made selling our house very easy. Her comments and suggestions enabled us to have a quick sale (within a day!). In addition, Leslie helped us buy our home. Her knowledge, patience, resourcefulness, and connections helped find a home that was perfect for us! – Timothy Wall                    November 12, 2019
Leslie was such a great realtor, very professional and with a value market knowledge. She was a pleasure to work with, and she was always there to answer all our first time home buyer questions, explaining the entire process and guided us through everything step by step. I would definitely recommend her services to friends. – Daniela                   November 11, 2019
Leslie is an extremely caring and hardworking realtor. She helped us find our new home. She is always prepared and ready to help with her client's needs.She does not rush, and gives honest and beneficial feedback. I will definitely recommend her services to others. – Durdana                  August 8, 2019
Leslie Weselak has been been my realtor for over 10 years. She has provided me with exemplary service. We recently purchased a home that is perfect for us. Leslie advised us most expertly during the bidding war, and it is unlikely we would have successfully purchased it without her experience and advice. During the process of securing the purchase with our bank we ran into bureaucratic snags. Leslie referred us to an excellent mortgage broker who worked with us under an intense time deadline to make sure our purchase was secure. During this process Leslie was not only an incredible wealth of knowledge, but also an essential support from a stress management perspective. She guided us with care, positivity, and sureness that has come from years of experience and a passion for what she does. She is doing an amazing job advertising our current home and advising us in its sale. We have much gratitude for her as our realtor.
Arwen Crowston       May 29, 2019
Leslie sold our last home
Very helpful in staging and pointing out updates and features of our home
Rain or shine she showed our home
We sold in a short time for a price we were happy with.                                                                          – Marie McMillan                        March 24, 2019
I just want to thank Leslie for the fantastic job she did with the sale of my Mom's home. I live in a different province and Leslie was able to make this whole procedure go very smoothly. It only took a week from listing date to date of offer accepted. She goes above and beyond in her daily job as a real estate agent. She responds very quickly to emails and always available when needed. She is a wonderful person to deal with and very kind hearted. Thanks again Leslie.   – Sandra LeBrun                            September 12, 2018
Leslie
It was a very nice, easy and simple experience working with you towards fining me a home. I enjoyed your every.time.smile. and laughter at everything.  I appreciate all the efforts you put in to find me a good home that I am enjoying so much.  And overall thanks for being so PATIENT with me.
Ibrahima
Leslie
I would like to say that I'm regretful that I did not realize that our business would be concluded today. Your generosity and thoughtfulness was something that I was planning to bestow upon yourself for your outstanding representation including impeccable attention to detail and invaluable referrals, as well as your ability to accommodate my unorthodox hours and transportation needs. Your professionalism and kindness have been second to none and something that I will always be grateful for. I know your on personal time right now "well deserved". So hopefully in the near future I will have the chance to show my appreciation, as always your simply the best.
Sincerely Al
Dear Leslie, 
I and my family are now enjoying our first house because you played an important part of being more than a realtor.  You've been there every time we needed help and you revealed many secrets of being a smart buyer.  We are thankful.  We will definitely recommend you to our friends and extended family.
Firmin and family
Leslie,
Thank you for helping us find out 1st home.  Thank you for being so patient and understanding. Much appreciation always and forever.
Thanks again from all of us, Sean, Geo, Gabby, Lucas and Alessandra
Leslie
I want to say thank you for your diligence in selling our home, I could think of no better person to do it. You were very instrumental in purchasing this house in the first place and I think there is no better compliment than to give someone repeat business when they excel at their job. Kudos to you! I wish we could have stuck around longer because I think our families would have been great friends! Leslie I am sure you won't mind if I put a good recommendation in with Weichert as someone they should use for transactions in Winnipeg, you certainly deserve it. 
Kind regards,
Derek
Way to go! You were also great in selling our cabin and we sold it for over asking which does not happen out there! Never would have thought in a million years it would have sold for what it did and have not 1 but 2 offers over asking in under a week.
Marcia
Arielle and I wanted to let you know that we both really enjoyed working with you.
Your knowledge, professionalism, patience, attention to detail and purchasing strategy was exceptional. We rally appreciated your flexibility and time showing us multiple properties within our price range and neigbourhoods of interest – and on weekends no less.
You were on top of every detail every step of the way, particularly during the offer to purchase and closing process – providing excellent communication to everyone involved.  Leslie, you were very easy to work with and made our home buying experience a very positive one.  Thanks again for everything.
Ryan and Arielle